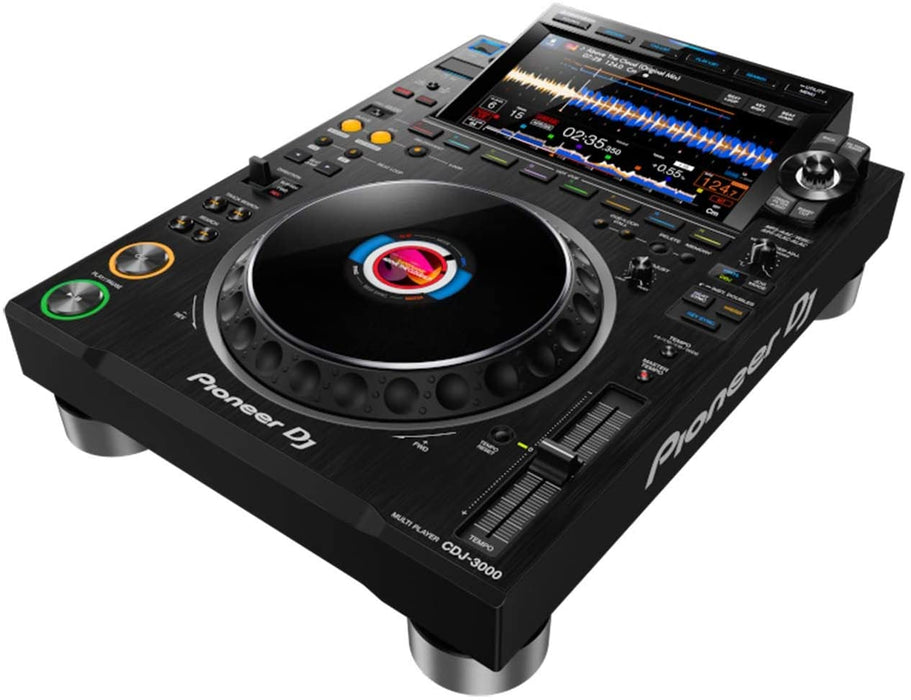 CDJ-3000
Sold out
Original price
EGP 138,615.00
-
Original price
EGP 138,615.00
EGP 138,615.00
-
EGP 138,615.00
Current price
EGP 138,615.00
COD is not applied for orders more than 25,000 EGP
Availability:
Out of stock
22 x 19 x 10 inches
DJ Media Player with 9" Multicol Touchscreen

Complete rekdbox Integration - Black

Extensive Media Fmat Suppt

8 Hot Cue Buttons

Platter Controls
18.24 x 12.58 x 5.95 inches
Introducing the SC6000 - The Ultimate Mainstage Media Player

Representing the absolute pinnacle of future-embracing DJ performance technology, the Denon DJ SC6000 PRIME empowers DJs with the most advanced, fully standalone digital media player for the professional DJ booth, club or mainstage gig. Powered by ENGINE OS, it features a 10.1-inch touchscreen, Wi-Fi streaming, an internal HDD drive bay, large 8.5-inch jog-wheel plus performance pads with sophisticated design illumination. With this comprehensive arsenal of creative tools, the SC6000 raises the bar for mainstage-ready DJ technology. Accept no imitations, be your creative best and embrace the future with the SC6000 PRIME.


Advanced Touchscreen Digital Workflow

The SC6000 PRIME features a stunning, high-definition 10.1-inch touchscreen with gesture support - the industry's largest and most advanced multi-touch DJ workflow display. Navigate, search and load extensive music libraries and even edit set lists on the fly with 'on-board' crate management. Gesture manipulate large waveforms and scrub through overviews, while visualizing essential DJ workflow info. In addition, the SC6000 can execute internal analysis of previously unanalyzed music files (including Rekordbox collections, hot-cues and loops), all directly within the unit itself - just 'plug in & play out!'.


Future Proofed Media Playback + WiFi Streaming

With dual output 24-bit, 96kHz digital audio quality, the SC6000 supports all major compressed and uncompressed music file formats – including FLAC, ALAC and WAV. With built-in WiFi and wired internet connectivity, DJs can now stream music – standalone - from TIDAL, with more partnered services including Beatport, Beatsource and Soundcloud coming soon via free updates.


Large 8.5-Inch Jog Wheel

Nudge pitch, back-cue and scratch with the SC6000's 8.5-inch platter, featuring improved tension adjustment for a completely personalized response. For further performance-driven feedback and customization options, the SC6000's radiant HD jog-wheel display features selected track artwork or personal DJ brand graphics – of course, critical DJ data such as deck status, time duration and loop lengths are also displayed. When combined with a user-selectable choice of platter LED ring colors, SC6000 not only provides all the mix-centric tools your performance demands, but complete customization options for all your performance needs.


Harmonic Mixing Perfection

The SC6000's on-board musical key-shift and instant match feature enables beautifully harmonic DJ sets to be performed effortlessly. Creating perfectly matched sonic textures with just the touch of a finger couldn't be any simpler. Song/track musical keys can also be viewed in Camelot or traditional modes – whatever suits your workflow!


Performance Pads

SC6000 PRIME features rubber button, ultra-responsive tactile-feel trigger pads for liberated performance & mix capability. Chop, remix and reinterpret your music collection via standalone Hot-Cue, Loop, Roll and Slicer controls, and take your mix to an entirely new dimension. Never miss a beat thanks to sophisticated design illumination for optimal club visibility.


No Limits Media

However your music collection is stored, the SC6000 guarantees to handle all digital music libraries and enable seamless DJ hand-offs with 3 x USB and 1 x SD media inputs; even large terabyte music collections are catered for courtesy of the SC6000's built-in internal 2.5-inch HDD bay. Only one player in a connected system actually needs the HDD and all other network connected units will read from this source too. Once a media source is inserted, the SC6000 remembers any previously entered DJ preferences including previously performed track cue points, loop regions, playback history, preparation folders and of course any live, on-the-fly, track analysis.


Best in Class Timestretch

Open Format, cross-BPM DJing perfection! With the SC6000, experience artifact free, sonically perfect audio reproduction, for pitch-locked, extreme track tempo changes courtesy of ENGINE OS' class leading real-time time-stretch algorithm.


Dual Layers

Taking your mix to new unchartered heights has never been simpler thanks to the SC6000's dual DJ deck playback facility. With dedicated (digital and analog) outputs for each layer, the SC6000 provides innovative tools via advanced routing capabilities, being literally '2-decks-in-1' and all standalone without the need for a computer.


ENGINE PRIME Librarian Software

ENGINE PRIME is Denon DJ's powerful Music Analysis and Management software that helps you organize, categorize and import your music, either fully integrated from Rekordbox, iTunes, Serato and NI Traktor collections (including hot cues and loop info) or via drag 'n drop from existing music folders. This enables offline music performance attributes such as hot-cues and loop regions (both of which can be named and colored individually) to be entered manually or on-the–fly, plus beatgrid editing and track auditioning too. Your music collection is then easily and quickly exported to either USB, SD or HDD for creative standalone performance on the SC6000 PRIME.


ENGINE Connect

For the ultimate setup, connect up to four SC6000 units via the 5-port LAN to Denon DJ's X1850 technologically-advanced 4-channel digital DJ mixer. Instantly, currently playing track tempo data is shared - for total control over the X1850's 16 tempo-based DJ FX - and ultra-fast music transfer across the network is enabled. In addition, via the networked SC6000 players, the X1850 mixer uses its StagelinQ connection to control AV, video and DJ lighting effects, working seamlessly with SoundSwitch, Resolume and Timecode software.


Expanded Software Performance Options

In addition to harnessing the standalone power of Engine DJ, the SC6000 PRIME can be used as a control deck with Virtual DJ, Serato DJ, and Algoriddim Djay. This flexibility gives you the freedom to perform however you'd like!
Installment Calculator

Full Price

Installments

Pay Later