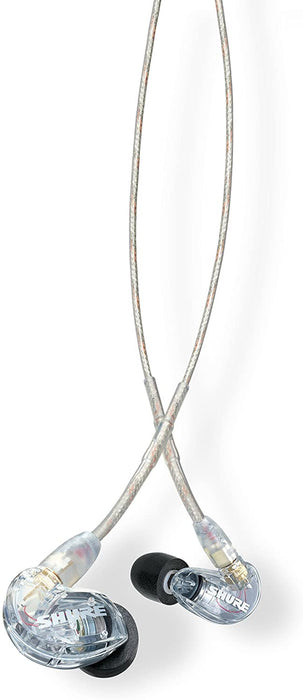 SHURE SE 215 CL
Sold out
Original price
EGP 4,520.00
-
Original price
EGP 4,520.00
EGP 4,520.00
-
EGP 4,520.00
Current price
EGP 4,520.00
Availability:
Out of stock
3 x 7 x 2 inches
About this item
Shure SE215 PRO Professional Sound Isolating Earphones provide clear sound and deep bass through a single, high-definition driver. Discrete, secure design includes a detachable cable with wireform to keep earphones in place and cables out of the way. Sound Isolating technology blocks up to 37 dB of outside noise. Includes a zippered carrying case and fit kit with selection of sleeves for custom fit.

"-CL" designates the product's color variation (clear).

Evolved from personal monitor technology that's been road-tested by pro musicians, the SE215 offers detailed sound with enhanced bass for personal listening or professional monitoring.

Comfortable sound isolating sleeves block up to 37 dB of ambient noise. Sound isolation technology prevents outside noise from interfering with your listening experience, whether on-stage or on-the-go.

Lightweight, low-profile shape with optimized nozzle angle is designed to rest comfortably in the ear.

Durable reinforced cable allows easy replacement or customization. Formable wire ensures secure placement, and over-the-ear configuration keeps cables out of the way. Gold plated MMCX Connector has a lock-snap mechanism allowing 360-degree rotation for comfortable fit.

Fit Kit includes three sizes (S, M, L) of the flex and black foam sleeves. Experiment with the size and style that creates the best fit for you. A good seal is key to optimizing sound isolation and bass response as well as maximizing comfort during extended wear.

A soft-zip, compact carrying case is included to provide a convenient, tangle-free solution to store and travel with your earphones.

Wireless SE215 earphones (with a Bluetooth communication cable) are also available. Sold separately in 4 colors (Clear: SE215-CL-BT1, Black: SE215-K-BT1, Blue: SE215SPE-B-BT1, White: SE215SPE-W-BT1).
‎19.81 x 5.33 x 8.13 cm
Detailed sound with enhanced bass so you can hear the details of your music
Sound-isolating design locks in sound and blocks out noise
Lightweight, low-profile shape with optimized nozzle angle rests comfortably in your ears
Detachable, Kevlar-reinforced cable is durable enough to withstand wear, yet allows easy replacement in case of damage
Over-the-ear configuration keeps cables out of the way
Gold-plated MMCX 1/8-inch connector has a lock-snap mechanism allowing 360° rotation for a comfortable fit
2-year limited warranty (see warranty information)
Includes Fit Kit, which contains small, medium, and large sleeves, as well as a soft carrying case
Single dynamic MicroDriver speaker
20 ohms impedance
22Hz–17.5kHz frequency range
Installment Calculator

Full Price

Installments

Pay Later