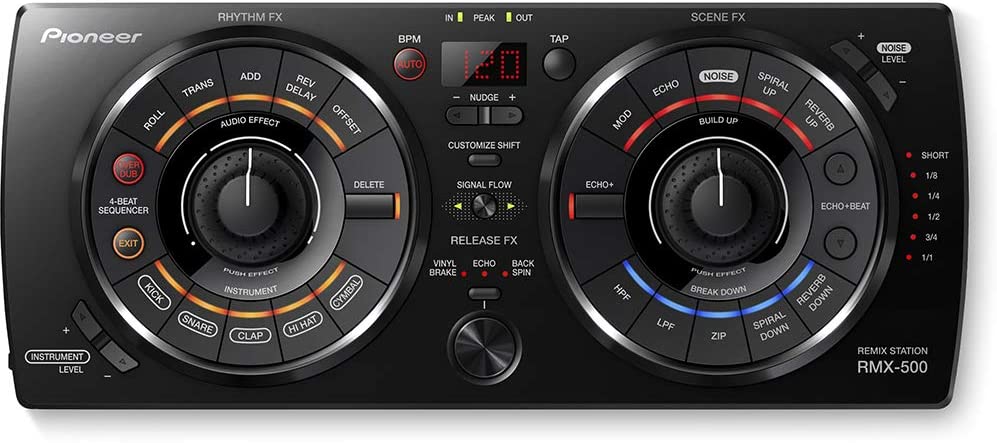 RMX-500
Original price
EGP 17,705.00
-
Original price
EGP 17,705.00
EGP 17,705.00
-
EGP 17,705.00
Current price
EGP 17,705.00
306 x 67 x 132 mm
Featuring the industry's first "pressure controller" Knobs that further alter effects and arrangements

Offers three effect sections: rhythm FX, scene FX, and release FX

4-Beat sequencer with 5 instrument buttons

Vest/AU/RTAS plug-in software included
‎7.09 x 5.91 x 3.39 inches
Rhythm FX
Get instant access to 5 Audio FX, an Overdub sequencer and 5 versatile drum samples, and use the large Pressure Control knob to manipulate the FX depth and other FX parameters. Use Overdub create your own beat sequences, and hit Signal Flow to add Scene FX to the Rhythm FX in play.
Scene FX
Build up and break down tracks by combining 10 types of FX. Use the top section to build with FX like Noise, Echo and Spiral Up or the bottom section to break down, cutting sounds with Crush Echo, Spiral Down or Reverb Down.
Make it your own
Customise the RMX-500 directly on the hardware. You can select and save all your favourite variations of Scene FX and drum samples, and set the lengths of back spins, brakes, echo and Overdub sequences.
Release FX
Seamlessly exit complex FX combinations using Back Spin, Echo and Vinyl Brake to effortlessly return to the original track.
Installment Calculator

Full Price

Installments

Pay Later